I am writing my note at the start of my post instead of at the end as usual. This is a slightly longer missive than usual. This short story is nearly 3,000 words long, but hopefully a breeze to read. Hope you like it.
On other fronts – I am on book number 12 in the Wheel of Time series (Update – I finished the series:)). In one of my earlier posts, I cribbed about the story being let down by the writing at times. But I was thinking about this later – how I am constantly pursuing this 'perfect' piece of writing and am petrified to share something for fear of it not measuring up to my inner writer/reader-police. Sometimes a writer just has to let go off the piece, so that the story can be shared, find a voice and a reader. Having thought that, I felt like an idiot my earlier criticism of Robert Jordan's writing. He was a far braver writer, and I should learn from that.
Writing regularly is still a struggle as I try to balance our innumerable hospital visits with the time and space required for me to write. My mind needs to write and at the same time, it cannot sit still enough (physically, emotionally, or mentally) to write. But I am glad that I am able to send this one out. Do let me know what you think.
---
The road was strewn with rainbows in every direction. Pink, blue, and white stars glittered and danced on the tarred highway half-melting under the afternoon sun.
"Come fast!" Anjali shouted as she ran ahead. At eight-almost-nine she was the oldest. Anila, her younger sister, Mita and I, aged six, were the minions. But with my birthday around the corner, I considered myself more seven than six. A point I rubbed into Mita and Anila's face at every opportunity.
The way to school from our working-class homes in the Woollen Mill Colony crossed a couple of groundnut fields, along a highway and ended at the gate and the stern guard at the Air Force TACDE compound. It was a walk that no self-respecting modern parent would have let their young child go on alone; but the world was safer then or maybe we were just ignorant. We were all defence kids, our fathers serving in various roles with the Tactics and Air Combat Development Establishment of the Indian Air Force. Every few years, the air force men and their families had to move out of the safe confines of the defence quarters and slum it in civilian zones. I didn't mind.
The Woollen Mill Colony had once been home to mill workers and supervisors when the cotton mills had hummed with life. Now the mill loomed abandoned in the background, and defence personnel and farmers occupied the houses. Someone had even painted Lal Bahadur Shastri's slogan 'Jai Jawan, Jai Kisan' across the mill's walls, trying to justify the death of a way of life, and challenging fate and time that had crept into the mill's deserted walls.
With its tired, working class, stand-alone houses, a gaggle of kids my age and huge backyards swollen with plantains, drumstick and mango trees, thorny shrubs that savagely grabbed us as we tried to rescue our makeshift cricket balls, the colony was magical. The heart of the colony was the sprawling banyan tree that had stepped out of the Jataka Tales, and which would be a haunted tree, or the magical Faraway Tree or a ship according to what took our fancy that day. If we did not create adventure, it came seeking us in the form of the beautiful grass green flying snake that we disturbed when we trampled a bush searching for a ball, or an angry neighbour driven to distraction by our loud, raucous games.
Every morning at 7.30 the four of us would step out of our homes for the half hour trudge to the Kendriya Vidyalaya Air Force School, located in the TACDE compound. The highlight of the otherwise boring, drudge of a walk was the stretch that hugged the farm's edges as the approach road from our homes turned right into the highway. Hedges peeked through the fences, acting as an additional barrier against stray goats. Hedges laden with luscious blackberries that we plucked and feasted on as we walked to school. We felt wild, our hearts pounding, terrified that the farmer would cotton on to our thievery and chase us, or worse, tell our mothers. He never did notice.
On our way back home, with the farmer and his wife working closer to the hedges, the farm ceased to be something to look forward to. Despite our boastful goading of 'today I am going to pluck one,' none of us built up the courage to swipe even a single berry with him lurking a couple of meters away bent over his groundnut crop.
In the afternoons it was the road that was magical. The road itself was an ordinary road stretching into the horizon, bordered by groundnut farms, thorny scrub trees and the dusty barren plots that dotted the flatlands of Jamnagar. At times it would be a river in full spate that we rowed down battling crazed crocodiles, or a forest path overhung with creepers and with wild animals that tried to eat us up. The crocodiles and wild animals were soundly defeated by our ingenuity every single time. Once every couple of days, in a nod to reality, one of us would have to die. The dead person carried everyone's water-bottles. Anjali, the oldest and smartest never died. Mita and Anila died quite often. If the dead person was lucky, the bottles would be empty, as we raced back home for some hot snack and the freedom of playtime. We had walked, trudged, dragged our feet, swum, climbed and trekked down this road, six days a week for the last nine months, and in all this time it had been a plain old road, never a field of tiny rainbows.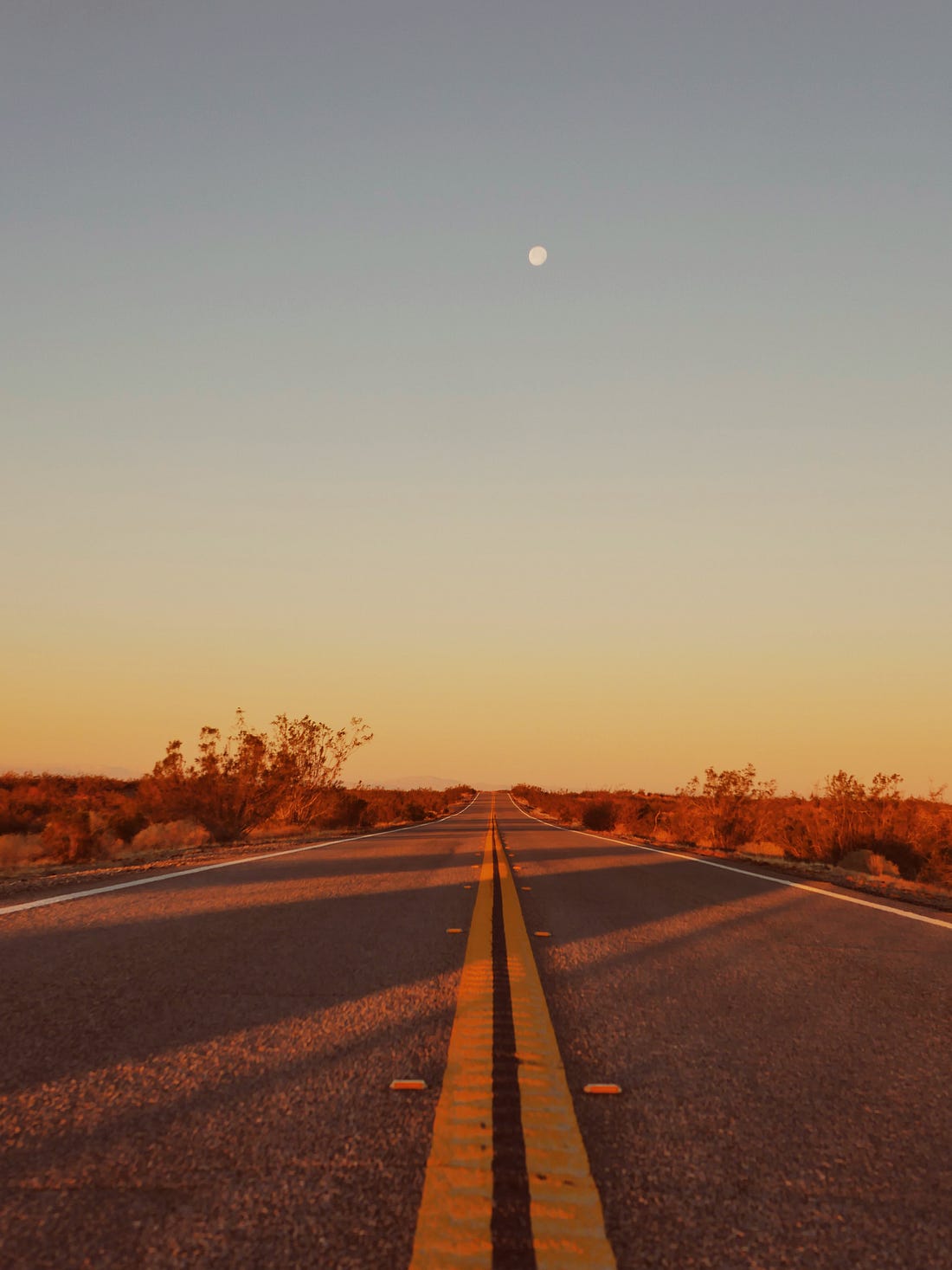 The day we saw the rainbow field on the road, we were headed home, the farm another five minutes-walk away. Initial awe gave way to a mad scramble to the spot. And there they lay, on our side of the road. Hundreds and thousands, maybe millions of diamonds, twinkling gaily at us as they caught the sunlight. For a moment, the four of us stood and stared at the treasure lying in front of us. We looked at each other, the road and then the farm. The highway stretched lonely in both directions. In the distance we could see the TACDE gate in the direction we had come from and the farm to our left lay quiet in the swollen afternoon heat.
I squinted up at the sky. I had wanted a talking doll just like Mita's, but my mother had forbidden me from asking my father for it. "He has enough to worry about, without having to find the money for talking dolls," she had said. That night I had lain awake negotiating with God. I promise to be a good girl. I promise to study hard and get good marks. I promise… Sleep overtook me in the middle of my promises, and I slipped into a dream of Kapil Dev playing cricket with the colony kids, talking dolls and a flouncy Pomeranian.
Were these diamonds God's answer to my prayers?
The stunned pause that had descended on the four of us was replaced by a sense of urgency. Following an unspoken accord, Anjali, Anila and I crouched to collect the diamonds. It was a moment before we realised that Mita was standing by, looking first at the road, and then the farm. A jittery bird poised to take flight even as it edged towards the breadcrumbs on the porch. She had never been any good with picking berries and she was no good with the diamonds either. But we had always shared our berries with her.
It was Anjali who let her know how things stood.
"Mita, we will not give you our diamonds, okay? You better collect your own."
Hearing this Anila and I doubled down and renewed our efforts at collecting all the diamonds we could. We were stuffing them into our empty lunch boxes. At the back of my mind was the sour awareness that Anjali and Anila would have a lot more diamonds, because they are sisters, and they were going to combine their haul, whether they liked it or not. Their mother will make them. Most of me was okay with that, though I did wish my brother were old enough to be collecting diamonds with me.
Mita continued to stand to the side, looking rather forlorn. Maybe her family didn't need diamonds. The memory of Mita's mother swaying into Parul's house for the Ganesh pooja came unbidden to my mind as I scrambled around for the precious stones. I had heard my mother and some other aunties sniff derisively and say something about necklaces and peacocks, and I remembered getting excited and looking around for one and being sorely disappointed. Sitting there, counting down to when the pooja would get over, the dots had connected. Mita's mother was the peacock… the peacock with a shiny necklace. It must have been a diamond necklace. Her father, who owned two of the local businesses (Vasudev General Stores and Vasudev Flour Mill), was after all the only one in the colony with a car. An Ambassador that he unveiled every Sunday, when Mita's family would drive away for a picnic on the palace grounds or a visit to the Bala Hanuman temple. Yet I couldn't help but feel a bit bad for Mita as she stood aside with her lower lip trembling. Fool! Why can't she collect some anyway?
It took us about 15 minutes to pick the diamonds strewn on the road. Stuffing the lunch boxes back into our bags, and dusting our hands, we half ran home, wanting to reach home before our mothers began to worry; because once they got over the worrying, there would be scolding for sure. We didn't even look at the blackberries beckoning us as we rushed home. As I neared home, doubt began to set in, and the questions rushed in. Whose diamonds were these? Are diamonds like berries? Will anyone notice that they are no longer there on the road? Will they know we took them?
I didn't have time to discuss these new worries with the much wiser Anjali, as I had reached home, and I could see my mother standing at the door. I waved bye and rushed in, sliding past my mother avoiding her questioning glare.
"Ma, I am hungry!" I said as I ran into the room I shared with my two-years-old brother.
"Wash up and come out. I have made upma."
I grimaced. Upma. When will she learn that I couldn't stand upma. I could not conceive a more boring dish than the clumpy, roasted semolina and vegetable porridge that my mother insisted on whipping up on a regular basis.
I stood for a minute, undecided about my next move. I heard the noise of the steel plate being taken out of the kitchen drawer. I pulled open the Godrej steel almirah and grabbed a top, poured my diamonds into it and tying it up into a potli, shoved it under my bed, into the dark recesses behind the rolled-up extra mattress. I was no longer sure about telling my mother about the diamonds. Seeing her waiting for me at the door had brought home the realisation that she would not see eye-to-eye with my 'finders keepers' ideology. She had after all walked all the way back to the pharmacy with my brother and me, when she had belatedly realised that they had given her back three rupees extra. "We don't keep what doesn't belong to us. We are not beggars or thieves," she had told me as I had moaned about all the walking I had to do.
I sat down on the steps leading into the backyard from the kitchen with my plate of upma, feeling increasingly like a criminal. Diamonds were not the same as berries. What was I thinking! A part of me was now certain that I was going to end up in prison. Maybe I could throw the diamonds back on the road on my way to school tomorrow. Not throw. Scatter them, real natural like. I made my mind up to ask Anjali and Anila to do the same when we met in the evening to play. I didn't want to be the one without any diamonds… though there was Mita. Smart girl. At least she was not a wanted criminal.
I was almost done with the upma when someone knocked at the front door. I heard my mother open the door.
"Sakshi!"
I sat frozen. How did they find us so quickly! Do they put handcuffs on children? I shot up and ran to the front door when my mother snapped my name out again. Mita stood at the door with her mother. For a moment I stood nonplussed. Why was my mother annoyed? These two were not cops. My relief did not last long as my mother fixed me with a glare.
"What is going on? Mita's mother says that you are refusing to share…" and here my mother lost steam. She looked at me and then at Mita and then slowly back at Mita's mother, "Did you say diamonds?"
I swallowed the upma still in my mouth. I looked at Mita and her mother, hating both with a clarity that stunned me. I was too young to have a word to describe what I saw in Mita's mother's eyes, but I could recognise the covetousness. I had felt the same ugly, grabby feeling for a moment when I had realised that Anjali and Anila could gather double the diamonds I could.
"Sakshi?"
She was tired. I could see that. It had been a long day of housework and taking care of a toddler who had no sense of self-preservation. And now here was this woman she did not like yapping about sharing diamonds.
"What diamonds is she talking about?"
I toyed with the idea of saying 'I don't know' all innocent like; but remembered in time that Mita was standing right there. And what if they decided to drag Anjali and Anila into it! Anyway, there was no point lying to my mother. She always knew.
I ran to my room, pulled the potli out. It lay heavy in my hand as I dragged myself back to the front door and handed it over to my mother. My mother opened the knots and looked at the contents, lying flatly in the makeshift bag. They were no longer twinkling and glimmering. She then looked at Mita's mother.
"Here, you can have them all if you want," she said stretching her hand with the potli in it towards them.
Mita's mother had also had a glimpse of my treasure trove. She spanked Mita on the back of her head and turned and walked away without a word, avoiding my mother's eye, Mita trailing behind her.
My mother closed the door after them, handed me my potli, and took my plate of upma from me.
"Do you want some more?"
I shook my head – no. I stood there unsure as to what had happened. My mother didn't look as mad as I had expected her to. In fact, I could have sworn that she was pleased. Did this mean that I got to keep the diamonds! She just shook her head in mild exasperation and turned back into the house to pull my brother away from the full plastic barrel of water stored in the kitchen that he was trying to climb into.
"Throw those glass pieces away. It is a wonder you did not get cut."
Glass pieces!
I looked at the potli's contents. They no longer glimmered, but lay flat, ugly, and shorn of life staring back at me. I tied the potli up again and walked to my room and pushed it back under the bed. Glass pieces. I did not want to go out to play that evening but staying back would have meant answering my mother's questions.
Playtime was a shadow of its usual self. The sisters' mother had made them throw the glass pieces away and given them an earful for bringing junk home. Mita did not even join us. When some of the kids decided to play hide-and-seek, my bad luck continued and I was the seeker and I could not find a single one, and then I lost interest and yelled that I was going back home. What a useless day! I wanted to cry but was too angry to. So many talking dolls.
Dinner was torture, as I had to sit through my mother's retelling of the events.
"Can you imagine? She thought they were diamonds and she collected them all!"
"Not all," I grumbled. "Anjali and Anila also collected the diamonds."
"Most probably a truck's broken window pieces!"
"Do you think we should take her to the clinic for a tetanus?"
My parent's voice droned on in the background. A truck's broken window. A hundred million pieces of rainbow! Who knew truck windows break into a million beautiful pieces!
The next day, the four of us walked to school as usual. We plucked a few berries more out of habit than any desire to eat them. Anila did not even bother; just slapped the prickly leaves away. None of us shared with Mita. As we reached the spot, we saw a few diamonds, that had escaped our eagle eyes, glimmering. I could not stop thinking of them as diamonds. But none of us stopped to pick them. Anila kicked one away into the bushes on the side of the road, as we walked on towards school.
It was another full day before we spoke to Mita. It was not her fault that the field of rainbows turned out to be a lie, but we needed to blame someone. Her unwillingness to be a part of our little clique and join in our games even as she craved the undeserved berries and glass pieces, made it easy to blame her. She also ended up dying in every single adventure we had on the road and carrying our water bottles for the next couple of weeks. But she never complained, and then one day we decided it was Anjali's turn to die, and after a moment's shock she agreed and carried our bottles. And just like that an unrecognised bitterness dissolved into laughter as we ran home.
---