Walking had become a pleasure again. The sun was gentler, and the breeze cooler. My hip did not feel tight anymore and I could swing my right leg without that twinge and ache in my bones. It also took less effort each morning to talk myself into getting ready to head out for the walk, mentally preparing myself for the exercise, and the fear.
The last few weeks as I had walked my usual stretch in the park, I had had to fight multiple demons – pain, weariness, and the gut clenching dread that had been my constant companion these last few months. Initially, after my recovery from the surgery, it had taken more energy and will power than I had thought I'd need to complete my walk. But it had got easier with each passing day.
I could have walked around the city blocks instead of the park, but I like trees. And the stubborn mulish part in me is not yet defeated. I believe that if I stop walking in the park, if the few of us who still venture out there for our dose of exercise and fresh air, were to quit, then we'd lose the park completely. It will no longer be ours… but his.
The first few times, after my return to the park, it was not muscle weakness and tightness or pain, but the thought of that statue lurking ahead, unseen, that had terrorised me. Waiting in the gloam with the left half of its head and shoulder missing, as though someone had taken a go at it with a sledgehammer, bits of rusty wire mesh sticking out of the jagged edges of concrete, the statue of the young boy did not cut a very impressive figure. It stood on a concrete pedestal, raised a foot and a half above the ground and was about four feet tall from the soles of its shoes to the top of its disfigured head. It may not have been remotely imposing, yet it had radiated an strange eerie almost mocking power. So out of place, I had thought the first time I saw it, not sure exactly what was out of place – the statue or the malevolence it exuded.
˷ ˷ ˷ ˷
I had been overjoyed to discover this park in my new neighbourhood. It helped me get over the concrete jungle blues that assailed me after I moved to the city from my small town. Every morning, I would be at the park by 5ish. The sun still a blush on the horizon, I loved this time of the day, with its reverential silence in the air, broken only by the nattering birds. But in the park, even the birds were quieter. And then there was the added advantage of avoiding my fellow park and fitness enthusiasts, who descended on the park by 6, by when the sun would be out, no longer shy.
It was a nameless park. My kind of park, overgrown with trees and shrubs that bordered the outer walls and the inner paths that criss-crossed the park. There was a banyan tree that held pride of place as being the oldest, with its widespread canopy, housing a mini universe of its own. Then there were the peepals, sals and the gulmohars. All of them lush, richly green, somehow more tropical than the world outside the park's single, high, rusty, wrought iron gate. Even on the hottest summer day, at mid-noon, the sun only peaked in through the protective green canopy. I fell in love with the park at first sight.
My first day at the park, I arrived around 6, and seeing the handful of others already there laying claim to different jogging paths and patches of sunlight, I promised myself that I would arrive at 5 the next day onwards. I looked around and decided to stroll down along the only path stretching long and empty ahead of me. It was a beautiful one – trees arching overhead creating a lovely tunnel effect, with the sun sneaking in here and there.
As I walked down the path, I realised that this path, stretching five kilometres, offered the only complete circuit around the park and would lead me right back to the gate, the only gate into the park, that I had entered from. Strange it should be so deserted then, I thought. Or maybe, people don't opt for the complete circuit in the mornings because it takes longer to complete, and everyone has to rush back to whatever work awaits them. Maybe there are more people in the evening, because come to think of it, I had seen only four others when I came in. Why can't I hear the birds at all out here?
Questions and thoughts flowed through my head as I walked on. Before I knew it, I had reached the three-quarter mark. The last stretch extended dark with the trees completely blocking the light over the path. I stopped and took a deep swig of water from my bottle. And then for reasons I did not fully understand, turned around and walked back down the stretch I had already covered towards the gate.The first week I only walked three quarters of the circuit before returning, as the last stretch extended gloomily ahead with the trees arching over the path.
Retracing my steps meant it took me longer to reach the gate than if I had just walked on. But I could not explain why I did not walk on. Was it that the complete absence of another soul had finally got to me or the fact that the birds had fallen completely silent in that stretch. All that week and the next, I would walk down the path, reach the three-quarters mark, and then turn back. I rarely saw anyone else venture into that section. With each passing day of that first week, my reluctance to complete the circuit increased.
Every single day, I would tell myself, today I am going to complete the circuit. And every single day, I would return home irritated with myself but unable to take a step beyond the self-set barrier. This inability to complete the circuit became a secret shameful burden. I could imagine the peepal and the sal bending their leaves towards each other and laughing at my weakness. Even the friendly gulmohar had stopped acknowledging me. Her fiery red flowers would have nothing to do with a coward like me, she seemed to say. I began to fancy that if I completed the circuit the birds on the trees along that path may start to sing again.
The third week, I decided to confront the irrational fear growing in me that had cast its shadow over my morning walk and my life in general. When I reached the three-quarters point, I stopped, and then taking a deep breath and ignoring the panicked alarm bells ringing in my head I stepped forward, and took another step. Just one step and I wished heartily that I hadn't. Just one step, and I was in a different world. I wished I had worn a jacket, which was silly, because it was a balmy summer morning. It was darker. I turned to look back down the path I had already covered. It too was bordered by trees arching over the path; however, it was somehow lighter… less feral there. Don't be silly.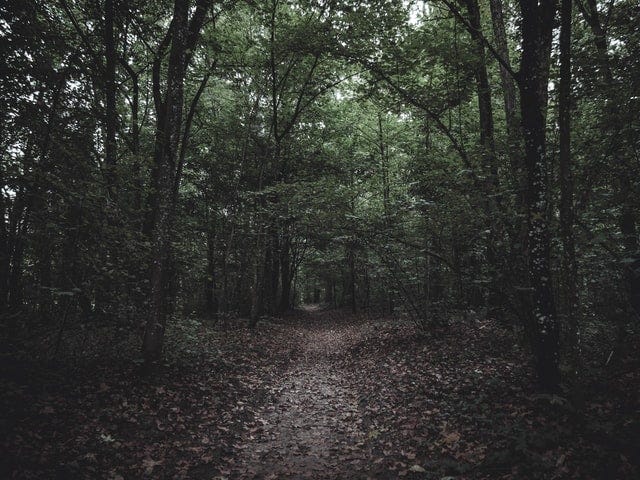 I carried on, fighting the desire to turn back, and run. Each step was an effort as I pushed against an invisible wall of hostility. Walking on would mean that I would be able to reach the gate in a mere 10 minutes instead of the 40 it would take me to if I retraced my steps. Walking on would mean, I would be able to set aside this shameful fear for ever.
As I walked on, trying to tamp down this strange sense of unease rising from my stomach to my heart and compressing my chest, I came across the boy's statue for the first time. Disfigured and lonely, it stood out starkly against the dense foliage. A broken young boy, dominating the surrounding wildness despite his smashed head and shoulder.
As I kept walking, I realized that I had unconsciously crossed to the other side of the path, away from the boy. Coward. But I could see the gate ahead. And then the warning bells jangled loud again. Don't look back. Don't. Look. Back. I don't know why that thought came into my head, but I knew, just knew that it was a matter of life and death that I did not turn back. I could feel his stare at the back of my neck willing me to turn. I half-walked, half-jogged the last few metres to the gate. As I neared the gate, the air cleared, and I could breathe easily again. My t-shirt stuck to me as though I had walked through a downpour.
As I blindly walked to my apartment, I promised myself that I would never walk through that stretch ever again. But half an hour later as I showered, I began to feel silly. I remembered reading somewhere about paintings where the eyes of the subject seemed to follow you, no matter which part of the room you were in. Perhaps this could happen with statues too. That would explain what had happened in the park. Inanimate eyes following one in a gloomy part of a park can freak anyone out.
By afternoon as I sat with my new friends at work enjoying a break from our project, I was ready to laugh at my over-active imagination. If my brothers back home heard about this, they would rag me about it for the rest of my life. This is why we never took you along, you shrimp, I could hear them jeer. You are always scared of every damn thing.
The next morning, I was back at the park gate, armed with renewed courage… courage that seeped out of me with each step. By the time I reached the three-quarters mark, my heart was trying to jump out of my body. What if I had not imagined it? What am I trying to prove? Don't be a fucking wimp. You can do this. Three steps in, I knew I had not imagined it. It was darker, wilder and somehow bitterly malevolent here. The air hung damp and evil over this place. But I kept on. Second guessing my instincts, praying to every god that ever existed, I walked on. Just before I reached the statue… the boy, I crossed to the other side. And I looked ahead. I promised myself that no matter what, no bloody matter what, I was not going to turn back. By the time I reached the gate, I was drenched in sweat and my heart was pounding as though I had run a marathon.
That day I did not feel like laughing at my imagination. I was beginning to think that it was not my imagination that was the problem, after all. Perhaps I was suffering from some strange form of mental illness. I was subdued the whole day, feeling as though I had been touched by evil.
The next day I was at the park again. I knew I had to return. If I did not confront whatever it was that was challenging me on that stretch of the path, I would forever be afraid. The first three-quarters of the way was covered in the blink of an eye, even though I tried to linger. At the three-quarters mark, I stopped and re-tied my shoelaces as I looked ahead into the murky shadows. The trees and the breeze waited for my decision. Maybe I should just turn back and go home. Even as I thought it, I knew that I had to go on. There was no other way. I could not live like this. I stood up, took a deep breathe and took a step forward.
Again, the vileness of the place filled the air around me. The place knew. He knew. He knew I was challenging him. I tried to control my galloping fear, but my thoughts sped ahead direction-less giving shape to vague ideas and terrors. I forced myself to keep putting one foot in front of the other. It's all in my head. It's all in my imagination. I kept walking. You can do this. Suddenly I breathed a sigh of relief. I could see someone else running down the path from where the gate was towards me. See, all in your head, you silly goose.
That was the last sane thought I had for a while, for even as I thought it, I noticed that the pedestal on which the boy stood was empty. Even as this fact began to impress itself on me, I realised that half of the jogger's head was missing. The other man was no man. He… it was the boy, and he was headed straight towards me with a malicious glint in its one eyes. I think I screamed.
˷ ˷ ˷ ˷
When I came to, I was in the hospital surrounded by my family, and my right leg in a cast. It had been broken clean as though someone had hit my leg with a hammer – the orthopaedics' words. The cops asked me who did it, and I said, I can't recall his face and that all I remembered was that he was jogging in from the gate. How could I tell the cops and my family that the person who had come running towards me was the statue with half its face and shoulder missing!
As though he sensed my thoughts, my brother mentioned that after my surgery to fix my leg, I had kept muttering something about a statue.
I blanched. What else did I say?
Maybe someone was hiding near a statue in the park, the other brother offered.
The constable shook his head and said, "It's a strange place. No one goes to that side of the park."
The other cop nodded.
I had to know. "Whose statue is that there?"
"Who knows? I have never been to that part of the park," the man admitted.
"I have heard that a man went mad there about 20 years ago and took a hammer to a statue there. But I don't know. No one really goes there."
It was months before I built up the strength and the courage to return to the park. I can now walk without too much discomfort, the pain in my leg hardly there. But not even for a million dollars will I ever walk even a step beyond the three-quarter mark. At that point, I stop, turn back and retrace my steps back to the gate. That broken boy can keep his vile part of the park.
*The End*